Why Bristol School of Yoga?
Feel like: Same size fish in a beautiful, magical chakra coloured glistening pond…
I'm currently training with Laura Gilmore at the Bristol School of Yoga, doing my 300hr training course. I have the pleasure of working at Bristol City Yoga and I had known of Laura's reputation from so many past graduates. 'She's so good.' 'She knows so much.' After about a year of hearing this it definitely peaks your interest. There are so many teacher training courses around the UK and they can be a lot of money, knowing which one to choose and for what reasons can sometimes cause a lot of thinking and no action.
My first module was The Art of Adjustment, which I had only intended to do to further my knowledge, to ensure my students get a teacher who can make them as comfortable as possible in any pose. I thought that because I didn't do my 200hr hour at BSY that I would have been out of my depth. Like a fish outta water.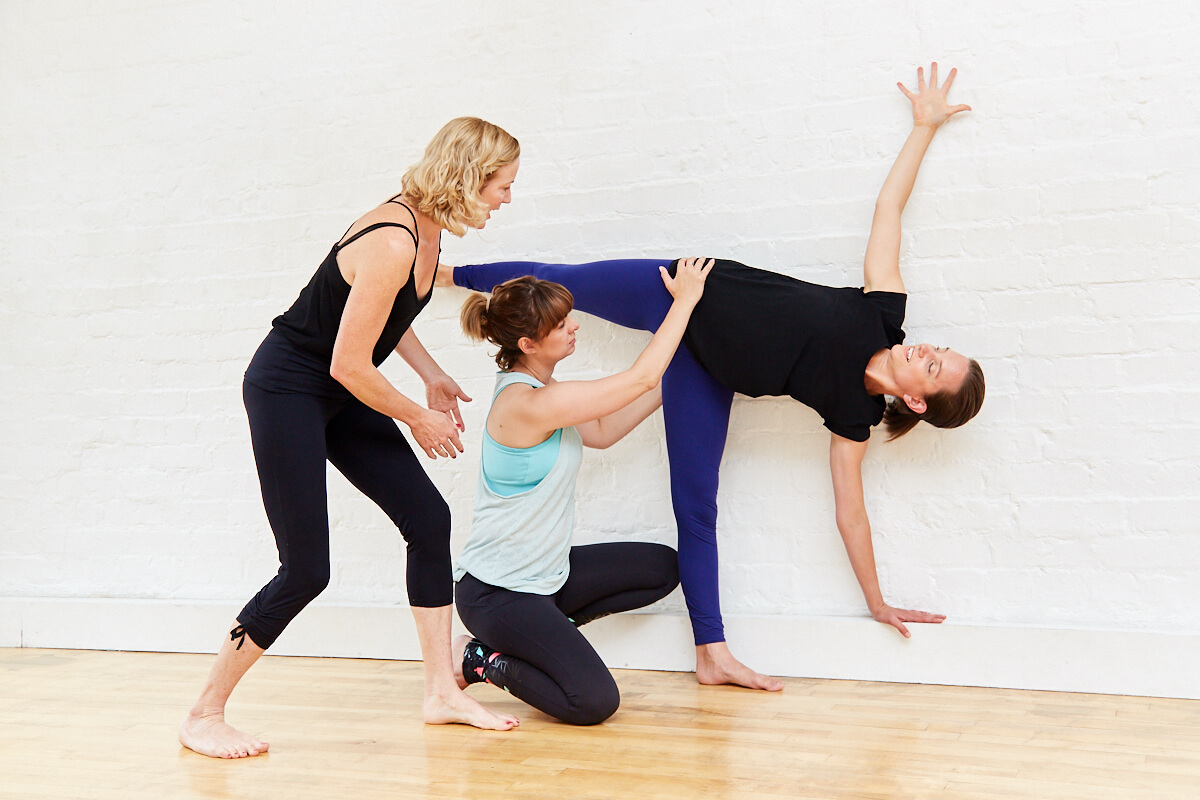 (Here I am - not staged at all - adjusting Charlie in Half Moon pose / Ardha Chandrasana)
However, it's not really like 'I'm the teacher, and you are the student' or things are never said like 'you should already know this'. It is a teaching that is so incredible open. It's still extremely beneficial for you to have a strong foundation of knowledge. The nature of it is more of an in-depth 4 day long workshop. One you really wanna do. That you look forward to when you wake up. Almost that strange feeling of being indulgent to yourself like you feel on a retreat.
Once I had taken one 4 day intensive I was hooked! My need to learn and thrive as a Yoga teacher has found a home in BSY. Sign me up please to the whole 300hr course with 8 of these modules please.
Why you ask? Predominantly the content and how it is delivered. Laura's teaching is so incredibly open, so honest, humble and down to earth and a little bit amusing at times. The atmosphere is one of comfort, support from your fellow yogis and the way in which you learn sinks in. No question is stupid and hands on learning is high on the list.
Learning wasn't always this way.
I wasn't a lover of school. Anything where I had to 'shut up and listen' with no creativity I found I was easily distracted by. Maybe subconsciously my soul was saying 'sod this, pick up a paintbrush, let's do something you love'. And so probably for most of my young adult life I had an unhealthily attitude to learning. Being forced to go against your will. Being in a uniform. Square peg, round hole.
In an atmosphere that BSY creates it's easy to fall in love with learning more about this rich, vast, rewarding thing we call Yoga. Looking forward to my next module: B A L A N C I N G T H E C H A K R A S.
Amanda x
If you wanna check out the School: https://bristolschoolofyoga.co.uk or give them a ring they are nice people (I work with them!) 0117 290 0273.